SOBAUCHI
Experience making Soba noodles from 100%-buckwheat flower. (You can eat it !!)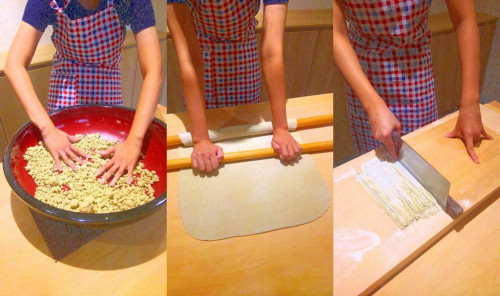 You can experience making 100%-buckwheat Soba noodles "SOBAUCHI" in the ancient capital of Kamakura.
I am Tomohiro Onda, the owner of Kamakura Hase Shiori-an will instruct you.
You can experience how to make Soba noodles in two hours.
After making Soba noodles, you can taste your own Soba noodles as follows: "Seiro Soba","Shoujin Seiro Soba","Kake Soba","Sudach Soba".
Maximum 2 people for bokking.
--- New campaign ---
1."Good match campaign"
During the period,if you show the photo or amulets, etc. as a proof, that you visited Kamakura good match spot (see *a), you will be served nice ice-cream. You can choose different flavour: "Vanilla", "Green tea", "Strawberry", "Chestnut".
(*a) Kamakura Good match spots:
1:"Fudo-Myo-oh" in the "Jojuin temple", 2:"Good match Jizo" in the "Hase-dera temple", 3:"Marriage stone" in the "Kuzuharaoka Shrine", 4:"Masako stone" in the "Tsurugaoka Hachiman-gū", 5: "Eleven faces Kannon" in the "Sasukeinari Shrine"
------------------------------------------------------------------------------------------------
A. Soba making (2 hours)
1, Introduction
2, Preparation
3, Making soba noodles
3-1,Work by Hachi ("FURUI"->"MIZUMAWASHI"->"NERI")
3-2,Work with Noshi-dai ("JINOSHI"->"MARUDASHI"->"YOTSUDASHI"->"TATAMI")
3-3,Knife work ("KIRI"->"HIRAKI")
4, Break
5, Enjoying your own soba noodles
If you like, you can order drinks, Japanese traditional sweets with the menu price.
B. Notes
* Soba making work depends on your experience.
* Elementary school child is always, please accompany an adult one person.
* All prices are tax-inclusive price.
* If the member (free registration fee and annual fee) after the second time, will be 500 yen discount.
* Mixing bowl is located 2 bowls. 2 persons per it, will be up to a total of 4 people.
* Please use the nearby coin parking guests arriving by car.
C. Experience fee
a. 10:00-12: 00 [except for the peak season,weekday only]
b. 15:00-17: 00 [except for the peak season]
c. 17:00-19: 00
item
fee
Remarks
TWO PERSON COURSE
1 adult (more than junior high school students)
4,500 yen
Including the tasting
TWO PERSON COURSE
1 child (elementary school)
3,000 yen
Including the tasting
ONE PERSON COURSE
1 adult (more than junior high school students)
5,500 yen
Including the tasting
D. Shopkeeper profile
25 years working as an engineer for Sony. The company aims to soba craftsman and early retirement, qualified as a cooking teacher license and food education instructor license at the Culinary Institute. Learn the soba noodles in Issa-an handmade noodles, soba classroom. In addition, it qualified as a Edo Sobaliar while walking to eat soba shop. In the Edo Sobaliar, learn a lot about buckwheat from buckwheat communication with soba noodles name people. As Soba craftsman, after the work for several years, it opened a store of Soba and Japanese traditional sweets. "Kamakura Hase Shiori-an" shopkeeper.
E. inquiry reservations
248-0016 Kamakura, Kanagawa Prefecture Hase 1-16-21
Kamakura Hase Shiori-an
booking page here
TEL. +81-467-37-9484